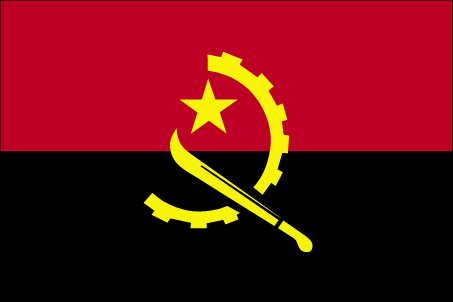 International Parcel Package delivery Angola
Parcel delivery to Angola
The Republic of Angola is a large country on the south western coast of Africa. It is borded by Congo, Zambia, and Namibia. The official language is Portuguese and there are numerous regional languages as well. The capital and largest city is Luanda. The country has a vast supply of natural resources but is described as economically disparate. Angola is one of the worst ranked countries in terms of life expectancy and poverty. The majority of the economy is petroleum and diamond extraction, as well as sustenance agriculture. Angola's biggest trading partner is China.
Customs for parcel shipping to Angola
Service is provided to and from some major cities. Otherwise it is likely that the cosignee will be contacted once their goods arrive. There are several stipulations for electronics and telecommunications equipment. It is strongly recommended that telecommunications devices be inspected by an Authorized Inspection Company before the transaction begins. An inspection certficate is required for many telephones, radios, and electronic devices. Private citizens cannot import more than three telephones per total shipment.
Security concerns when shipping parcels to Angola
It is prohibited to import the following goods into Angola: Meat or products of swine, poultry or eggs from Asia or Europe, cloven-hoofed animals (bovines, sheep, goats) from Brazil, plants or plant material, absinthe, weapons, firearms, ammunition, explosives, artifacts of cultural importance, counterfeit goods or currency, pornography, blank checks, personal effects, bearer documents, diamonds, prescription drugs, illicit narcotics, precious metals, mining equipment or services, machine parts, passports, satellites or their parts, ground waterborne transportation and watercraft vehicles.
Parcel documents delivering to Angola
There is a Documento Unico or Single Document that Angolan Customs uses for declarations. Additionally, failing to file the following documentation may delay the clearance process significantly: proof of ownership, certificate of origin, Shippers Export Declaration (SED), packing list, and insurance certificate. Ocean freight should also be accompanied by a CNCA Loading Certificate. A duly registered agent of Angola Customs must be contacted to provide a CNCA. Note that there is a Harbour Data Processing Dues and Loading Certificate Fee.
International Parcel Package delivery to: Cabinda, Lobito, Luanda, Namibe, Porto Amboim, Sumbe, Benguela, Huambo, Leuna, Lubango, Malange, Mavinga, Menongue, N'banza Congo, Noqui, N'zeto, Saurimo, Waku-Kungo