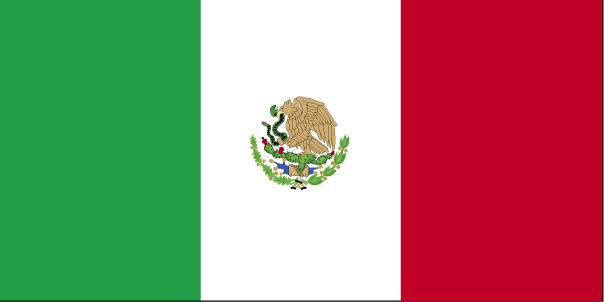 International Parcel Package delivery Mexico
Customs for parcel shipping to Mexico
Approximately 10% of shipments are physiclly inspected by Mexican Customs. There are also private inspection companies who do a second inspection in order to keep the Mexican authorities in check. Each item must be identified with the correct 8-digit tariff classification in order to determine the duty rate. Taxes and duties are paid at commercial banks in the port of entry. There is a Value Added Tax collected when the goods enter Mexico as well as a customs processing fee.
Security concerns when shipping parcels to Mexico

Japanese imports will be tested for radiation levels and can only enter Mexico City, Veracruz, or Manzanillo. The following items are prohibited from being imported into Mexico, illicit narcotics including marijuana in any form, military equipment and weapons, second hand tires or appliances, poisons, certain chemicals, counterfeit goods, Garbage Pail Kids merchandise or printed material, and products originating from turtles. Certain restrictions apply to antiques, fine art, bicycles or their parts, products from China, cigarettes, credit cards, electronics, jewelry, meat, and shoes.
Parcel documents delivering to Mexico
A licensed broker with the power of attorney should submit the declaration. This ensures that the roker is responsible for any misinformation. Commercial importers should register with the Mexican authorities to receive a tax number. This includes anyone importing a shipment worth over 12,714 pesos ($999 USD). An invoice is essential and should include all of the correct information. The bill of lading should be attached to the invoice. Certificates of origin are required for preferential tariff treatment, especially from Canada or the USA.
Parcel delivery limitations to Mexico
In accordance with antidumping laws Mexico has administered strict regulations in regards to used items and certain countries of origin. Used clothing can only be imported if they are the personal effects left in another country while travelling. Commercial shipments of clothing must be accompanied by the appropriate documentation in Spanish. Clothes imported from Vietnam, Thailand, Taiwan, Sri Lanka, South or Central America, Philippines, Pakistan, Malaysia, Korea, Indonesia, India, or Hong Kong require proof of origin. Chinese imports are strictly limited for personal use only.


International Parcel Package delivery to: Acapulco, Campeche, Chihuahua International, Ciudad del Carmen, Coatzacoalcos, Cozumel, Ensenada, Frontera, Guaymas, La Paz, Lazaro Cardenas, Lerma, Manzanillo, Mazatlan, Mexico City, Mexico City International, Minatitlan, Nanchital, Poza Rica, Progreso, Puerto Madero, Puerto Vallarta, Puerto Vallarta International, Reynosa, Salina Cruz, San Carlos, San Juan de la Costa, Tabasco, Tampico, Topolobampo, Veracruz, Villahermosa