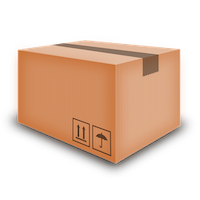 International Package Shipping - Get FREE Rates
Use the map below to select the country for your International Parcel Package delivery Quote:
International package shipping can be accomplished in several ways. In most cases, the shipper prefers to use an air service but, especially when price is a factor, ocean methods can also be used. Whichever way you wish to use, our site Parcels Packages gives you choices you can compare next to each other. There is no cost associated with receiving the quote!
So what's to think about before your international package shipping takes place? We have placed below a shipping checklist which you can always refer to whether shipping once or regularly. Just go step by step and ensure you are familiar with the task at hand and pay attention to detail. For those who have regular shipments, it is so easy to skip steps or make mistakes on a particular task. You do not want to be on the receiving end waiting and waiting for your parcel.
UPS Shipping is the most common form selected. Naturally, you can also select FEDEX or even the USPS. The price or method will play a factor. So make sure you are on track. Take for example John, a painter from Australia. He is interested in shipping 3 boxes of paint from the USA in order to cover an order of a client. He goes through the process of finding the best shipping company using our quote comparison service. He then selects the company that fits the most and assigns them the task.
Checklist for International Package Shipping:
Prepare your shipment. In the preparation process check that you can ship to the destination. Sometimes you cannot ship from the USA to Australia certain items.
List your items. Make a detailed inventory form with all the items you wish to have shipped. It is important to be as detailed as possible. Both from a price quote perspective as well as taxes and customs that might be levied on your shipment.
Sending your shipment. Schedule the pickup with the international courier company so that you know your timeline.
Label your goods. There are different labeling systems. The right one depends on your needs and budget. Do not skim as that can cause you issues.
Destination. Destination services include pickup, delivery, weighing of the goods as well as insurance. Ensure all are prepared in advance so that at the destination there is a smooth delivery.
As a last advice on reaching a successful international package shipping service, I would advice to match the shipping documents you have with the actual parcel in advance as well as when you are handling off to the international courier. Information that you do not advance will not be received and might get lost. Happy shipping and be successful.