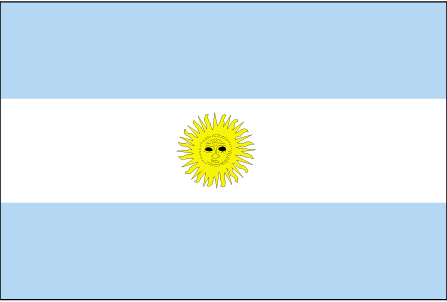 International Parcel Package delivery Argentina
Parcel delivery to Argentina
Argentina is considered to be one of the most developed nations in South America. There are approximately 41 million people living the, many in the capital of Buenos Aires. It is the largest Spanish speaking and the eight largest country in the world. Argentina is an upper middle income economy that is described as an emerging market. They have one of the highest gross domestic product per capita in Latin America. There is a complex infastructure of roads, airports, waterways, and railways. About 1/3 of the roads are paved.
Customs for parcel shipping to Argentina
In Argentina customs is the government agency responsible for collecting tariffs and enforcing legal regulations. All customs fees should be paid before a shipment can be cleared by Argentina Customs. Shipments may enter via formal or informal entry. Customs valuation is based on the transaction value. If no transaction has taken place then it should be the market value. Additional charges such as shipping and insurance should also be included. There may be countervailing duties, import taxes, or a customs fee in some cases. Excise duties apply to some goods like alcohol, tobacco, soft drinks, and electronics.
Who ships parcels to Argentina
Argentina is a founding member of the United Nations, and is party to the following trade agreements and multilateral organizations: Antarctic Treaty, Cartagena Agreement, Convention on the International Trade in Endangered Species of Wild Flora and Fauna (CITES), Food and Agricultural Organization (FAO), Economic Commission for Latin America and the Caribbean (ECLAC), Free Trade Area of the Americas (FTAA), Generalized System of Preferences (GSP), International Monetary Fund (IMF), Latin-American Integration Association (LAIA), MERCOSUR, Organization of American States (OAS), Scientific and Cultural Organization (UNESCO), World Trade Organization (WTO).
Parcel documents delivering to Argentina
Parcels that enter Argentina should include the value and description. Shipments imported into Argentina should include an air waybill, commercial invoice, packing list, certificate of origin, and any commodity specific information. Numerous commodities require a shipping permit and may be returned due to a missing license. These types of goods may include: electronics (cellphones, digital cameras, laptops), used clothing, products made from plants or animals, food and drinks, promotional items, aircraft parts, sunglasses, cosmetics, textiles, pharmaceuticals and medicine.
International Parcel Package delivery to: Bahia Blanca, Buenos Aires, Buenos Aires Ezeiza International, Caleta Olivia, Campana, Canadon Seco, Cinco Saltos, Comodoro Rivadavia, Concepcion del Uruguay, Diamante, Don Torcuato International, Ibicuy, La Tablada, Lujan De Cuyo, Malargue, Mar del Plata, Mendoza, Necochea, Neuquen, Puerto Deseado, Quequen, Ramallo, Rio Gallegos, Rio Grande, Rosario, Salta, San Antonio Este, San Julian, San Lorenzo, San Pedro, San Sebastian, Santa Cruz, Santa Fe, Tartagal, Ushuaia, Villa Constitucion, Zarate, Catamarca, Concordia, Cordoba, Corrientes, Formosa, Junin, Junin, La Quiaca, La Rioja, Oran, Parana, Presidencia, Reconquista, Rio Cuarto, San Juan, San Luis, San Rafael, San Rafael, San Salvador de Jujuy