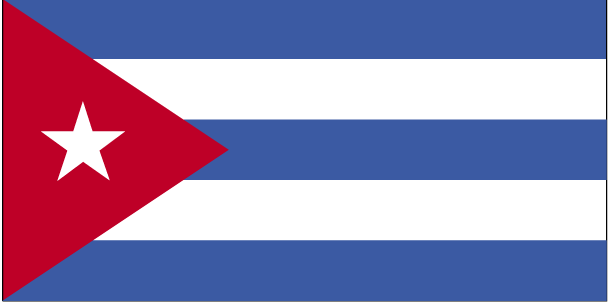 International Parcel Package delivery Cuba
Parcel delivery to Cuba
The Republic of Cuba is a Caribbean island near the US, the Bahamas, and Mexico. The capital of Cuba is Havana and the second largest city is Santiago de Cuba. Cuba is the largest and most populace island in the Caribbean with the lowest population density. Despite a decades long trade embargo with the US Cuba has a high human development index. Cubans speak Spanish. The economy is based on socialist principles and controlled by the government, who must appove any imports into Cuba.
Customs for parcel shipping to Cuba
Parcel delivery to Cuba is complicated by an OFAC trade embargo by the U.S. Department of Treasury's Office of Foreign Asset Control. Major freight brokers based in the US such as Fedex or UPS are unable to deliver imports to Cuba. There are high penalties for breaking economic sanctions and they cannot provide this service. Air and freight forwarding companies that are based out side of the US can most likely import goods to Cuba. China, Canada, Netherlands, and Spain are Cuba's biggest trading partners.
Security concerns when shipping parcels to Cuba
In Cuba it is prohibited to import the following commodities: illicit narcotics, explosives, pornography, perishable food stuffs, used appliances or electronics or machines. Restricitions apply for satellite dishes and receivers or other telecommunications equipment. Any form of flora or fauna is carefully controlled by the island's authorities. Cuba imports around 80% of its food, but it is only admitted if it has been industrially elaborated and hermetically sealed.
Parcel documents delivering
Importers should provide a Declaration of Goods form (Declaración de Mercancías) in order to clear Customs. Cuban Customs allows electronic declarations, but manual declarations are accepted for those who do not have a computer. There should also be a commercial invoice, proof of insurance, a certificate of origin, a bill of lading or airway bill, as well as any required licenses or permits. An Orden de Predespacho, which is a wriiten notification, is necessary for delayed shipment to be cleared.
International Parcel Package delivery to: Antilla, Bahia Honda, Banes, Baracoa, Cabanas, Caibarien, Cardenas, Casilda, Cienfuegos, Guayabal, Havana, Isabela de Sagua, Jucaro, Manati, Manzanillo, Mariel, Matanzas, Nicaro, Nueva Gerona, Nuevitas, Pastelillo, Puerto Padre, Puerto Tarafa, Santa Clara, Santa Cruz Del Sur, Santiago de Cuba, Pinar Del Rio