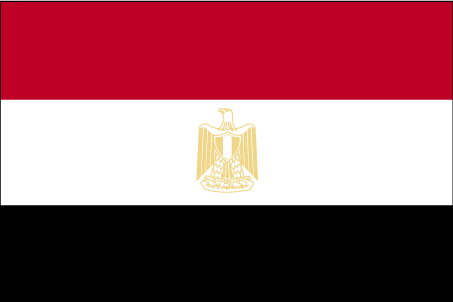 International Parcel Package delivery Egypt
Parcel delivery to Egypt
One of the most ancient states in the modern world, Egypt is home to over 82 million people. The Arab Republic of Egypt has considerable influence in the Mediterranean and the Middle East. Egypt has a diverse economy based largely on agriculture, minerals and petroleum. Egypt's largest imports are motor vehicles, cellphones, synthetic materials, and grain. Tourism and foreign investment are a vital part of Egypt's economy.
Customs for parcel shipping to Egypt
Customs closely inspects each shipment and this may cause a delay. Commercial shipments, and shipments worth more than $2,000 USD are entered through a formal clearance process. Any plants, animals, or their products must be approved by the Ministry of Agriculture. Automobiles are often imported into Egypt and are highly taxed and regulated. Any consumable items such as food or toiletries must be approved by the Ministry of Health. Alcohol is legal but it is heavily taxed. Please note that all forms of media (written, digital, audio, video) are subject to censorship.
Security concerns when shipping parcels to Egypt
It is prohibited to import the following types of commodities into Egypt: any items offensive to the Muslim culture, liquor, games of chance, religious material, pornography, smoked salmon, supplements used for body building, Viagra, electronic cigarettes, honey, contact lenses, GPS equipment, Magic Jack & Router Vanish (and similar USB devices). Importing hazardous materials is prohibited and may include: acids, batteries, biological products, chemicals, corrosives, cosmetics, dangerous goods, flammables, gases, ice, infectious substances, liquids, magnets, oxidizers, paints, perfume, poisons, radioactive material, or toiletries.
Parcel documents delivering to Egypt
In Egypt a certificate of origin is not needed for one time shipments with a value of under $2,000 USD. Commercial shipments or those with a value of over $2,000 should include a certificate of origin that has been authorized by the Egyptian Embassy. All commercial importers are required to obtain an import license prior to shipment. In order to receive tax relief goods should be accompaned by a standard declaration. This includes an invoice and a certificate of origin. Egyptian Customs will not clear a parcel until the appropriate documentation has been provided. Shipments are subject to a close inspection, which can sometimes cause a delay.
International Parcel Package delivery to: Abu Zenima, Abu-Rudeis, Alexandria, Cairo, Damietta, Hurghada, Luxor, Maadi, Port Said, Safaga, Abu Simbel, Aswan, Asyut, Baharia, Dahab, El Arish, Farafra, Giza, Kena, Kharga, Mersa Matruh, Siwa, Sohag, Taba