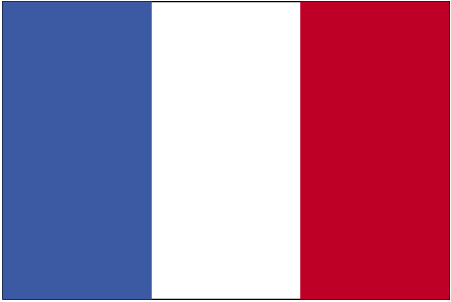 International Parcel Package delivery France
Parcel delivery to France
There are three kinds of imports that enter France, those worth less than 22-45 Euros and are eligible for tax relief, those worth 45-150 Euros, and everything else. Items in the second category are charged a tax, and in the third a tax and a duty. These can be paid by the sender or recipient. Tobacco, alcohol, drugs, medicines, weapons, or strategic materials do not qualify for tax exemption no matter what worth. Imports valued at over 38,200 Euros must be handle by a state approved banking intermediary.
Customs for parcel shipping to France
France uses a computerized customs clearance system which eases the speed of transition remarkably. Import transactions can be handled manually, but the electronic system is more efficient with the various formalities. There is a special unit in place for express deliveries. Import and export companies may apply for a license to obtain customized customs procedures. French customs may pull a parcel from circulation for further inspection at any time. A shipment has not legally entered the country until it has been cleared by French Customs.
Security concerns when shipping parcels to France
The following items are prohibited in France: products containing biocide dimethylfumarate, Dehydrepiandrosterone, Viagra, vitamins, collectable stamps, products containing lead, salt, and nickel, psychotropics, Melatonine, drug paraphernalia, U.S. beef hormone, concealed blades, toys containing copper sulfate, silicon for plastic surgery, non fire retardant sleep clothing, cannabis, counterfeits, lead coated jewelry, dura mater, rubber erasers that resemble food, bush meat, asbestos, red tuna from Central America, and produce from Egypt.
Parcel documents delivering to France
All goods imported into france are required to have a declaration that includes the estimated value and a description ofthe enclosed contents. Additional documentation may be required for foodstuffs, plants and animals, dangerous items, media, textiles and clothing, as well as antiques. All shipments of textiles valued at over 45 Euros must have a valid certificate of origin. Commercial shipments are subject to a mandatory invoice for all transactions.
International Parcel Package delivery to: Abbeville, Ajaccio, Angers-MarcT, Angoulome-Brie-Champniers International, Annecy, Antibes, Arcachon, Bagnolet, Bassens, Bastia, Bayonne, Besancon, Beziers-Agde-Vias, Biarritz, Biarritz-Anglet-Bayonne International, Bonifacio, Bordeaux, Bordes, Boulogne Sur Mer, Brest, Brest International, Caen, Calais, Calvi, Camaret-sur-Mer, Cancale, Cannes, Cannes - Mandelieu, Chambery - Aix, Chasseneuil du Poitou, Cherbourg, Chuelles, Clamart, Colombes, Concarneau, Deauville, Dieppe, Dijon, Dijon Bourgogne, Donges, Dunkerque, Euro Basle-Mulhouse-Freiburg, Fecamp, Figari, Granville, Gravelines, Grenoble Saint-Geoirs, Haguenau, Honfleur, Izon, La Ciotat, La Nouvelle, La Pallice, La Rochelle, Lavera, Le Havre, Le Havre International, Le Treport, Libourne, Lille, Loctudy, Lorient, Lyon, Lyon Satolas, Macon, Marans, Marseilles, Montoir de Bretagne, Montpellier Aeroport Mediterranee, Montrouge, Morlaix, Nancy, Nantes, Nantes Aeroport Atlantique, Nice, Nice Cote d'Azur International, Nimes, Orleans, Paimpol, Paris, Paris - Beauvais, Paris Charles de Gaulle International, Paris Orly International, Pau, Pauillac, Perpignan, Poitiers, Pont-Audemer, Port De Bouc, Port Jerome, Port Vendres, Porto Vecchio, Propriano, Quimper, Reims, Rennes Aeroport Saint Jacques, Rochefort, Roscoff, Rouen, Saint Etienne, Sete, St Brieuc, St Malo, St Nazaire, St Valery sur Somme, Strasbourg, Strasbourg International, Tonnay Charente, Toulon, Toulouse International, Tours, Treguier, Vannes, Papeete