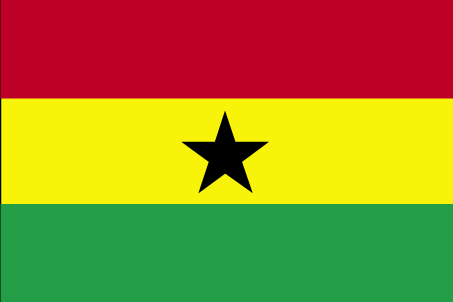 International Parcel Package delivery Ghana
Parcel delivery to Ghana
The Republic of Ghana is on the southwestern coast of Africa where it borders Togo and the Ivory Coast. Ghana is a lower middle income country whose chief industries are agriculture services, and minerals. Ghana is rich in gold, crude oil, natural gas, and is one of the leading exporters of cocoa. Inflation and international debt are a problem and Ghana receives a lot of financial relief from the US and Europe. Transportation by road, rail, and air is better in the southern region near the coast. Infastructure and communication networks are less developed in the northern and central areas.
Customs for parcel shipping to Ghana
Guana Customs encourages the spirit of joint responsibility between its partners in trade. The valuation of imported goods is outsourced to private organizations called Destination Inspection Companies (DICs). Traders must submit their invoices to be reviewed and issued. However the final decision still rests with Ghana Customs. Customs reminds clients to strictly adhere to the following expectations: be compliant, pay all taxes when due, follow registration requirements, demand a receipt, do no bribe officers, use approved routes, report corruption, give accurate information, do not break any seals without permission, and always quote your TIN.
Security concerns when shipping parcels to Ghana
The following goods are absolutely prohibited from importation into Ghana: diseased animals or contaminated meat, beads made of inflammable celluloid, raw coffee, counterfeit currency, knuckle dusters and life preservers, obscene or scandalous literature and materials, dangerous goods, and all other goods prohibited by law.
It is prohibited to import hazardous materials into Ghana, and this may include: acids, batteries, biological products, chemicals, corrosives, cosmetics, dangerous goods, flammables, gases, ice, infectious substances, liquids, magnets, oxidizers, paints, perfume, poisons, radioactive material, or toiletries.
Parcel documents delivering to Ghana
The general import procedures of Ghana require up to nine forms of documentation. These include: an original airway bill or bill of lading, an invoice, a packing list, the Final Classification and Valuation Report (FCVR), the Import Declaration Form, a tax clearance issued by the Domestic Tax Revenue Division, a Tax Identification Number (TIN) from the Ghana Revenue Authority, the appropriate permit or license, and when applicable a letter of exemption from payment of duty and/or taxes.


International Parcel Package delivery to: Accra, Saltpond, Takoradi, Tema, Akim Oda, Axim, Bole, Ho, Koforidua, Kumasi, Navrongo, Sunyani, Tamale, Wa, Wenchi, Yendi