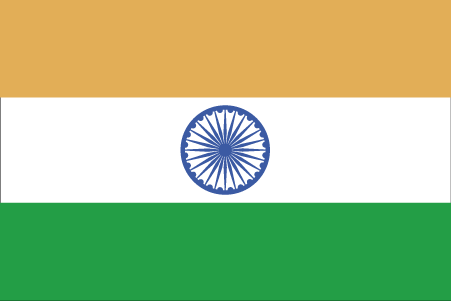 International Parcel Package delivery India
Customs for parcel shipping to India
There are two categories of importers in India, which they refer to as users. Actual users use their imported goods for manufacturing, industrial, or scientific purposes. Non-actual users import items for retail or personal reasons. Additionally there are four categories of imports, free, restricted, canalised, and prohibited. Free imports do not require a license. Restricted imports do require a license. Canalised imports may only come through appointed agencies. Prohibited imports cannot be legaly shipped to India.
Security concerns when shipping parcels to India
The following items are prohibited from being imported to India: products made in Iran, night vision goggles, unsigned credit cards, Indian passports, baby gender tests, money orders, inaccurate maps of India, natural abrasives, pig or bovine fat including sheep and goats, bush meat, products made from endangered species, any form of gun including toys and models. Canalised items are rice, cereals, and petroleum oil.
Parcel documents delivering to India
No one can import or export goods in India without an Importer-Exporter Code (IEC) and a Business Idenification Number from the Director General of Foreign Trade (DGFT). Goods will not be cleared by Customs wthut a IEC from the DGFT.There are exceptions for certain diplomats, charity organizations, goods coming from Nepal or Myanmar, and native citizens.
Formal clearance from customs may require a commercial invoice, a itemized declaration of value, an import declaration, a signed packing list, the purchase order, a letter from the cosignee, payment of import duties, a certificate of origin, and any applicable special licenses.
Parcel delivery limitations to India
Used items are not able to be imported without a Special Import License (SIL).Personal effects must be shipped via an authorized carrier, such as UPS or Mail Boxes Etc. or an ISC. Restricted items that may require additional documentation include chemical compounds, chemical, seeds, spices, potatoes, garlic, animal offal, bovine meat, plants, or live animals.
International Parcel Package delivery to: Bangalore, Bedi, Belekeri, Beypore, Bhavnagar, Bombay, Calcutta, Calcutta International, Calicut, Cannanore, Chennai International, Cochin, Cochin International, Coondapur, Cuddalore, Dahej, Dehra, Delhi - Indira Gandhi International, Dhaka, Faridabad, Goa - Dabolim, Gurgaon, Haldia, Honavar, Jakhau, Jamnagar, Kakinada, Kandla, Karwar, Madras, Malpe, Mandvi, Mangalore, Mormugao, Mumbai, Mumbai - Sahar International, Mundra, Nagapattinam, Nazira, New Delhi, Okha, Paradip, Pondicherry, Porbandar, Ratnagiri, Redi, Salaya, Sika, Tellicherry, Vengurla, Veraval, Vishakhapatnam, Agartala, Agra, Ahmadabad, Aijal, Akola, Allahabad, Ambala, Amraoti, Amritsar, Aurangabad, Balangir, Balasore, Barmer, Baroda, Barreilly, Bhopal, Bhubaneswar, Bhuj, Bikaner, Car Nicobar, Chandrapur, Coimbatore, Cuttack, Darjeeling, Dhanbad, Dibrugarh, Gauhati, Gaya, Guna, Gwalior, Hissar, Hyderabad, Imphal, Indore, Jabalpur, Jagdalpur, Jaipur, Jalgaon, Jammu, Jamshedpur, Jodhpur, Kanpur, Karwar, Keshod, Khandwa, Kota, Kurnool, Lucknow, Ludhiana, Machilipatnam, Madurai, Meerut, Minicoy, Mysore, Nagpur, Nasik, Nellore, Ongole, Parbhani, Patiala, Patna, Poona, Port Blair, Puri, Raichur, Rajkot, Ranchi, Ratlam, Rewa, Salem, Sambalpur, Satna, Shillong, Silchar, Siliguri, Srinagar, Surat, Tezpur, Tonk, Trivandrum, Tuticorin, Udaipur, Varanasi, Vellore, Vijayawada