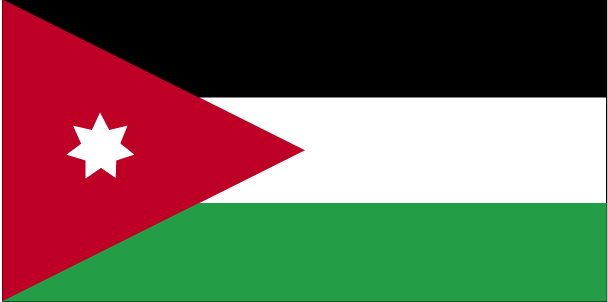 International Parcel Package delivery Jordan
Parcel delivery to Jordan
Bordering Saudi Arabia, Iraq, Israel, and the Dead Sea, over half of the Hashemite Kingdom of Jordan is deserts. Jordan is not wealthy in oil. Its economy is largely dependent on services, tourism, and foreign aid. Jordan's strategic locations makes it an ancient trade hub with an excellent infastrucure of transportation. Jordan has one port on the southwestern tip, where it shares the Gulf of Acaba with Israel, Egypt, and Saudi Arabia. The Gulf of Acaba is considered to be one of the best ports in the world.
Customs for parcel shipping to Jordan
Jordan Customs serves many functions including facilitating economic activity, collecting revenues, contralling the passage of people and goods, combat smuggling, protect the society, and prohibits illegal business practices. In addition to collecting taxes customs is also charged with promoting the economy with international trade. Jordon customs has a comprehensive website in English where E services are provided. There it is possible to file a declaration, inquiry, or view the entry system.
Security concerns when shipping parcels to Jordan
It is prohibited to import the following into Jordon: liquor, miliary equipment, cash letters, negotiable bonds, or personal effects. Jordan prohibits the importation of hazardous materials which may include: acids, batteries, biological products, chemicals, corrosives, cosmetics, dangerous goods, flammables, gases, ice (dry,wet), infectious substances, liquids, liquor, magnets, oxidizers, paints, perfume, poisons, radioactive material, or toiletries. Jordan is the only Middle Eastern country other than Egypt to allow products made in Israel.
Parcel documents delivering to Jordan
Imports into Jordan should come with a standar declaration. Proof of origin should be included in order to qualify for preferential treatment from trade partners. Restricted items may require additional documentation, such as CD Roms and software, tapes, drugs and medicine, antiques, fine art, jewelry, plants and seeds. Those who wish to import seeds into Jordan need approval from the Agricultural Ministry.
International Parcel Package delivery to: Amman, Aqaba, Ghor El Safi, Irbid, Jericho, Maan, Mafraq