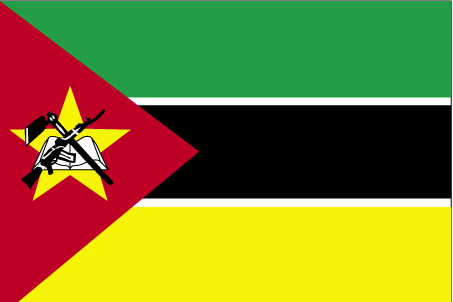 International Parcel Package delivery Mozambique
Parcel delivery to Mozambique
The Republic of Mozambique lays on the south eastern coast of Africa. It is bordered by South Africa,Zimbabwe, Zambia, Tanzania, and faces Madagascar towards the east. The economy is largely based on agriculture. Mozambique is rich in natural resources and the manufacturing sector is growing. However the human development index and life expentancy is very low compared to the average. The official language is Portuguese and Swahili is also very common. Most of the population lives in the northern part of the country. The majority of the roads in Mozambique are unpaved. The largest international airport is Maputo where most imports are processed.
Customs for parcel shipping to Mozambique
Customs clearance isusually administered at the Maputo Airport. All goods may be subject to inspection. Inspection is mandatory for food stuffs, construction materials, chemical products, medicines, matches, or automobiles and their parts. There is no inspection fee, except for motor vehicles. Shipments worth less than $20 USD are usually cleared without taxes or duties. But this is at the discretion of Customs agents. When shipping software or CD Roms it is only necessary to include the value of the physical media itself.
Security concerns when shipping parcels to Mozambique
The following commodities are prohiibited in Mozambique: falsely labeled goods, counterfeit copyrights, pornography or obscene materials, imitation foreign postal franchises, food or medicine not fit for human consumption, some liquors, unregistered psychoactive medication, certain gases (Chlorofluorcarbons, Halogens, Carbon Tetrachloride of Carbon), left handed vehicles for commercial purposes, products made in Iran, illicit narcotics, unregistered arms, hazardous materials and dangerous goods.
Parcel documents delivering to Mozambique
According to Mozambique Customs Authority regulations each international shipment should include a fully detailed packing list. There should be one original invoice and two copies. Shipments worth between $20 and $500 USD may pay their duty directly. However anything worth over $500 USD require formal Customs clearance with a declaration before the parcel arrives. Cargo worth over $2,500 USD needs a pre-inspection certificate in addition to formal clearance documentation.
International Parcel Package delivery to: Beira, Chinde, Inhambane, Macuse, Maputo, Matola, Nacala, Pebane, Pemba, Quelimane, Chimoio, Lichinga, Marrupa, Mocinboa du Praia, Montepuez, Nampula, Tete, Ulongue, Xai-Xai