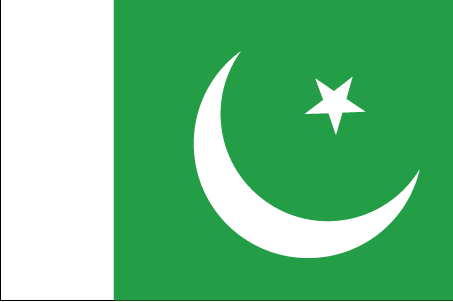 International Parcel Package delivery Pakistan
Parcel delivery to Pakistan
The Islamic Republic of Pakistan is located on the Arabian Sea bordering India, Iran, Afghanistan, China, and across the bay from Oman and the UAE. It is classified as a rapidly developing country, and has been called one of the most potential economies in the world. The country is located at a strategically important crossroads of Asia. Pakistan has good roads, but their railways and airways need improvement, and the port is undeveloped. Approximately 95% of the transport sector is privately owned. Shippers must meet minor local requirements.
Customs for parcel shipping to Pakistan
Shipments that are valued at less than $100 USD can be cleared they same day that they arrive. Items valued at more are to be cleared through the formal entry process. Anything worth less than $200 will most likely be processed in less than three days assuming the cosignee has submited the correct documentation and the duty was paid. All parcels must be cleared by Customs within 15 days. After 30 days they will be auctioned off by Pakistani Customs.
Security concerns when shipping parcels to Pakistan
It is prohibited to import the following types of goods to Pakistan: liquor, tobacco, items offensive to Muslim culture, communist propaganda, shipments from Israel, satellites or satellite parts, passports, personal effects, blank invoices, used electronic items, bearer documents, furs, knives, precious stones, stamps, vitamins or herbs, illicit narcotics, Viagra.

Hazardous materials are prohibited from importation into Pakistan and may include: acids, batteries, biological products, chemicals, corrosives, cosmetics, dangerous goods, flammables, gases, ice (blue, dry, wet), infectious substances, liquids, magnets, mineral products, oxidizers, paints, perfumes, poisons, radioactive material, or toiletries.
Parcel documents delivering to Pakistan
A standard declaration is requested especially for those wishing to receive preferential treatment as part of EFTA. The standard declaration includes a valid certificate of origin and an invoice. It is important to classify all shipments correctly to avoid serious delays.

Foreign aid send on behalf of the US-UN aid must include an exemption certificate from US-UN aid, and an exemption letter from US-UN aid. There are no value restrictions for international relief.

Restrictions apply for certain commodities including: CD Roms and software, pharmaceuticals, event tickets, food stuffs, animals or their products, antiques, fine art, electronics jewelry and precious metals.
International Parcel Package delivery to: Islamabad, Karachi, Lahore, Badin, Bahawalpur, Chhor, Chitral, Dir, Faisalabad, Gilgit, Hyderabad, Jacobabad, Jhelum, Jiwani, Multan, Peshawar, Quetta, Sargodha, Sialkot, Sibi, Zhob