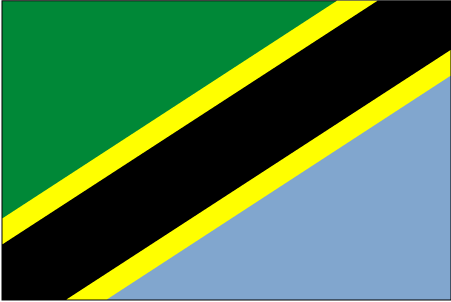 International Parcel Package delivery Tanzania
Parcel delivery to Tanzania
Tanzania is a south eastern African country that shares a border with Mozambique, Zambia, Congo, Burundi and Rwanda, Uganda, and Kenya. It is on the coast of the Indian Ocean. The country includes the five semi-autonomous islands of Zanzibar. The official languages are Swahili and English. The the most significant portion of Tanzania's economy is based on agriculture and tourism. Tanzania is also rich in natural resources such as gold, diamonds, and coal. The capital of Tanzania is Dodoma. The country is connected by its own air and railway system.
Customs for parcel shipping to Tanzania
Tanzania Customs has undergone many changes in recent years, from the 'long room' era when everyone had to wait in a big office, to the electronic era. Many new initiatives have been passed to speed the transition through Customs. Customs administers taxes on international trade. This could be a import duty, excise duty, or a VAT. While collecting fees, they record trading statistics in the official record. It is also Customs' job to regulate the flow of goods and control prohibited imports for the secrity of Ethiopia. The Tanzania Customs Department is headed by a Commissioner and four Deputy Commissioners.
Security concerns when shipping parcels to Tanzania
The following commodities are prohibited from importation into Tanzania: satanic items, biological products, bearer documents, blank checks, furs, weapons liquor, personal effects, soil, and Viagra. Hazardous material and dangerous goods are prohibited, and may include: acids, batteries, biological products, chemicals, corrosives, cosmetics, flammables, gases, ice, infectious substances, liquids, magnets, oxidizers, paints, perfume, poisons, radioactive material, or toiletries.
Parcel documents delivering to Tanzania
If a shipment is worth over $5,000 it is subject to a post-shipment inspection. A fee of 1.2% FOB value will be assigned to shipments that require an inspection. Shipments that weigh over 31 kilograms are considered freight. They must be accompanied by an airway bill or bill of lading, and a manifest that includes the amount of parcels, the name of the cosignee(s), and the weight. Calendars are assessed a 30% sales tax. Shipments of pharmaceuticals must include a letter from the doctor who prescribed the medication.


International Parcel Package delivery to: Dar Es Salaam, Kilwa Kivinje, Kilwa Masoko, Lindi, Mtwara, Pangani, Samanga, Tanga, Zanzibar, Arusha, Bukoba, Dodoma, Iringa, Kigoma, Kilimanjaro A/P, Mbeya, Morogoro, Moshi, Musoma, Mwanza, Same, Tabora